here's the vid.
So I already have the Survival Silverfire Rocketstove but I did not realize - I was looking up to see exactly how it works internally and then noticed - oh they sell a heater-stove for indoor use. That is exactly what I need.
So then after I bought the Hunter stove I called up Silverfire and the owner answered and he wanted to share with me the new items in development - a tent stove! So I asked he if thought the Hunter stove would work in a pup tent.
So I set up my pup tent as the Hunter stove is 16 inches tall - and so to see how much room I would have.
It was the first time I had went inside the pup tent! It was much smaller - or a bit smaller but that is good to stay warm in the winter.
So the owner said I would have a cleaner burn from the Hunter than the tent stove, since the Hunter has three burning chambers. If you watch the video - it is very impressive - a completely clean burn out of the chimney!!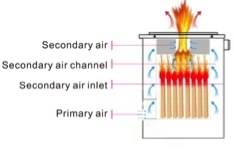 Hunter Stove-Heater, a very clean burn.
Yeah so that Ammo Can stove that people make - like in the above image of the pup tent - it is only 9 inches tall, with the Hunter stove is almost twice as tall - 16 inches. So I realized - I can just dug out a ditch - as I planned to do anyway - for the pup tent. So I have a deeper area.
After eating smoke all day I can really appreciate a clean burn!
But if you look at the flame shooting out of the stove - it will burn down the pup tent.
haha. Well not too funny actually.
In other words either I am super careful with the flame and surround the tent with Welding Blanket to protect the canvass.... a fiberglass - or I get a bigger tent.
If you read over the Silverfire Survivor design it's amazing how much thought went into it.
So as this dude points out - the Hunter as THREE levels of burning.
So the owner reports 12 x 12 foot space being heated for several hours in one burn, using a big pot of water.
vid of Silverfire Hunter as heater